My wife has three older brothers. Two of them (Dale and Roger) live in Rochester NY and the other (Leroy) lives in St. Paul MN. We see Dale and Roger a few times a year as Rochester is only a couple of hours away from where we live, Leroy, however, we only see every few years whenever he's able to come and visit. He and his son Andy most recently visited in 2012.
As their last visit was ending my daughters and their cousin Andy hatched a plan for us to go and visit them in Minnesota the next summer. I was less than thrilled at this thought. I'm not really into driving long distances and it's at least a 15 hour trip. Leroy made it by himself once in 13 hours but that was driving straight through with only two potty breaks. (Leroy used to be in the Marines. I'm guessing that bladder control is somehow taught in basic training.) With myself and three women in the van there was no hope of coming close to making it in 13 hours. After weeks of cajoling (whining) though, I grudgingly relented.
We planned the trip for the third week in August so we could go to the Minnesota state fair. It turns out the Minnesota state fair is the second largest state fair in the country, but more on that later. We kept going back and forth as to whether we were going to split the ride out into two days or just one right up until the day before we left. We finally decided on one day (oi) because Leroy had all sorts of things for us to do and we wanted to get there as soon as possible.
The ride out was fairly uneventful. The girls watched movies pretty much all the way out. I hook the sound in through the van's sound system so JoAnn and I can listen to the movies too. Even though JoAnn and I can't actually see the movies just listening to them is fairly enjoyable, and if there is something we don't understand we just ask the girls what exactly is going on and they give us a play by play of the action. You'd be surprised at how much quicker it makes the trip seem just by listening to movies. And you'd be surprised how many romantic comedies one can play on a trip to Minnesota.
We stopped for lunch near Sandusky, OH at a restaurant called Fazoli's. It's a fast food Italian restaurant that used to have a franchise near our home. It was one of our favorite places to go. A few years ago, however, the one near us closed. That made the one in Erie, PA the closest one to us which was an hour away. We went there a couple of times and then that one closed and we were all traumatized. We saw this one near Sandusky, OH when we were on the Jazz Band trip earlier this year. As we rode by on the bus one of us saw the Fazoli's sign and yelled "Fazoli's!!". My entire family immediately plastered our faces up against the bus's window and longingly gazed at the restaurant we once loved so much and made a vow that we indeed would one day be back. This now was that day.
As we walked in, that familiar smell greeted our noses and we all just smiled. You may not understand it if you've never been to a Fazoli's, but they have the best bread sticks in the world. And they keep giving you as many as you want. They're all hot and squishy and buttery and garlicky................. sorry, I drifted off. Anyway, by the time we were done we could barely stand up let alone walk, but that didn't stop us from bringing along a few "leftover" bread sticks for the rest of the trip.
The biggest problem I had with the trip out was the tolls and Chicago. I could not believe how many tolls I had to pay. By the time we got to Leroy's we had paid over $40 in tolls. I paid tolls for things I didn't even realize were toll things. "Thank you for using that bridge you just crossed, that'll be $5." "Thank you for driving on this short four mile stretch of highway, that'll be $3.80." It was ridiculous. And my apologies to anyone from Chicago that may be reading this but driving through there was just crazy. Have you ever seen those Grand Prix races where they close off part of a city and then have a race through the city streets? Well it was pretty much like that except that there were hundreds of cars all going like 70 miles an hour through Chicago. That was probably the most scared I've ever been driving. People were just flying by, switching lanes and just plain scaring the crap out of me. I was never so happy to get on the other side of a city as I was after we got through there.
The whole way out the girls kept sending texts to Andy to let them know of our whereabouts. We'd tell them where we were and they would say about how long it would take to get there. By the time we got to Leroy's it was going on 1 am. After all was said and done it had taken around 16 hours to get there.
Leroy had tons of stuff planned for us to do while we there, much of which was based around eating, which was perfectly fine with us. He had each day mapped out as to which restaurants we were going to. It was great. This one day we went to a Japanese buffet for lunch and then a pizza buffet for supper. To say we got a little full on that day would be a bit of an understatement. I recall a lot of moaning on the ride back to the house that night and statements such as, "I'm never going to eat again!"
Leroy works in the jail in Minneapolis. He took us there one day for a tour. If I ever had any thoughts of thinking that it might be interesting to be in jail for a little while just to see what it was like, they were quickly dispelled by the time we were done. Trust me, you do not want to be in jail. I don't care if you do get three square meals a day. It did not look fun at all. And, there's not many of us out there that can pull off wearing an orange jumpsuit.
We were toured all over St. Paul and Minneapolis while we were there. One interesting thing we got to see was the first gun fired at Pearl Harbor on Dec. 7, 1941. It was from the ship the USS Ward and was manned by a group of Minnesota reservists. Leroy's wife Rose's uncle served on that ship and his name is on the plaque with the gun.
We of course had to visit the Mall of America. My wife and daughters made it quite clear we weren't going home without seeing the largest mall in the US. I have to admit I was kind of curious to see it myself. It's pretty big, but it didn't seem as big as I thought it would be. I mean it's got an amusement park right in the middle of it but it really wasn't that hard to get around in. It's set up like a big doughnut with all the stores around the outside and the amusement park in the middle. It's four floors high in some parts and three floors high in all of it. I thought it would be this long expansive kind of thing but it's relatively compact because it has so many floors. One of the interesting things about the mall is that the same exact store could be on more than one level. We saw more than one location for quite a few stores. It seemed a little odd at first but the more I thought about it it kind of made sense. More stores more opportunities to get customers and you save them from having to wander all over the place to find your one store.
One day we spent at the Minnesota state fair. As far as attendance goes it's the second largest state fair in the US (Texas is first but it runs longer). Let me tell you, that did seem big. We went on opening day (which was a Thursday) and the attendance for that day was almost 107,000. Now that seemed like a lot of people but a few days later they set a new one day record with an attendance of 236,197! I have no idea how they fit in twice as many people as the day we were there. I thought it was crowded on our day.
The nice thing about the fair was that it fit into the theme of our trip quite nicely. The theme for our trip of course being food. You have never seen so many places to eat in your life. One of the jokes about the fair is that you can get almost anything on a stick. I can't even really come close to making you realize how many places to eat there were. Now Leroy and his family have been coming to the fair for years and they kind of had a food routine already figured out. Thank goodness because if we had had to figure it all out by ourselves we would probably still be there. Let's see, there were the miniature doughnuts, the cheese curds, the rice and meat burger, the Nitro ice cream, some alligator, fried pickles, a malt, a bucket of chocolate chip cookies, a root beer float, some super hot jerky that made me cry a little, pizza on a stick, taffy, free milk and I'm sure other things that I just can't remember.
A princess is chosen for the fair and from what I gather it's quite the big deal. The official name of the princess is Princess Kay of the Milky Way. Yes you read that correctly. I read something about the whole princess thing and the history of it but to be honest I still don't understand what the name has to do with anything. I was probably so tired from walking and full from eating that my brain couldn't comprehend it. Oh, and to honor the current princess they carve a bust of her...... out of butter. Yup, butter. I actually saw it myself. It was on a pedestal that twirled around inside this big glass enclosed refrigerator. Traditions can be kind of curious if you didn't grow up with them.
One day, and as far as Meagan was concerned, the whole point of the trip, we went to Walnut Grove, MN. I'm sure a lot of you remember that Walnut Grove was where the TV show "Little House on the Prairie" took place and where Laura Ingalls Wilder actually lived for a while. When Meagan first mentioned going there I thought that it would be a nice little side trip for one day. I didn't know exactly where it was, just that it was somewhere near St. Paul. It was only after we got to Leroy's and started looking at maps that we discovered it was about three hours away! I'm sure the look on my face and the tone of my voice when I shrieked "THREE HOURS!!" made it seem like the trip wouldn't happen but I knew how much it meant to Meagan, so off to Walnut Grove we went.
On the way there, once we got past Minneapolis, things got very rural. And I mean VERY rural. There were times when I couldn't see any houses at all. You could look out your window and see nothing but acres and acres of corn and soybeans. Every once in a while you'd see a little dirt road go off into the corn and then just disappear into it. There were just thousands of acres covered with corn and soybeans.
Once we finally got to Walnut Grove we of course did all of the touristy things. We went to the museum, toured around town, ate at Nellie's cafe and went out to the site of the Ingalls' home on the banks of Plum Creek. The site is located on some private individual's farm (the Gordon's) but they allow people to go in and see it for a small fee. It was really quite interesting and Meagan was about as happy as I've ever seen her.
We also stopped at an antique/junk store for the fun of it. We love those kind of places and thought it might be fun to get something from Walnut Grove. We got a couple of small things, but Meagan, of course, couldn't be happy with just a couple of small things. No, she went and fell in love with a hutch. I explained to her that there was no way we could fit a whole hutch in the van with six people. It just wouldn't fit. She grudgingly agreed. But that didn't stop her from thinking about it.
We had planned on stopping in Pepin Wisconsin on the way home. Pepin is the birthplace of Laura Ingalls Wilder. It was a little out of the way and it would make it tough to get back home in one day but we knew how much Meagan wanted to see it. The day before we left Leroy's Meagan says that she's been thinking about that hutch in Walnut Grove and wondered if there was any chance we could fit it in the van for the trip home. I believe I looked at her as if she had a cucumber growing out of her head. "Are you nuts!", I said very calmly, "even if we were able to fit it in the van Walnut Grove is three hours away in the opposite direction of home! That means we would have at least six hours of driving added to our trip home! There's no way we would make it home in one day! And that means we would have to spend extra money on a hotel for a night! NOOOO!!"
Well, to make a long story short, after a lot of sad puppy dog faces and pleading, I, of course, gave in. When we pulled up to the store in Walnut Grove (after three hours of driving) much to my horror the sign out front of the store said "Closed". To say I flipped out a little would be a gross understatement. I was on the verge of a panic attack when I noticed that there was a car near the store. I thought that maybe the owner or an employee had stopped in to do a little something and that maybe even though they weren't open we could somehow still get the hutch. I went to the door, expecting to have to bang on it to get someone's attention, but it was open. I went in and found someone behind the counter and asked if they were open because the sign out front said they were closed. She said they were indeed open and that she must have forgotten to change the sign out front. I tell ya, if I hadn't have been so happy and relieved I probably would have strangled her. I'm getting older, my heart can't take this kind of stuff anymore.
Anyway, Meagan pays for the hutch, we take it apart and somehow squeeze it into the van with all of our luggage and stuff. I'm happily amazed that we actually get it to fit. Now, finally, we're off to Pepin WI.
Pepin was nice but not quite as "Laura Ingalls Wilder-fied" as Walnut Grove was. We visited the site of the Ingalls place a little ways out of town. They have a little log house there to represent where the real house was. It was fun. I grabbed some dirt from a cornfield nearby and threw it in a to-go carrier we had left in the car so Meagan could always have a little bit of Laura's birthplace. (Don't tell the farmer who owns the corn field.)
Because we had a couple of little side trips we, of course, weren't going to make it home in one day which meant we were going to have to stay over one night in a hotel/motel. We had tried getting into a Hampton Inn but it was all booked up. We ended up in a Motel 6 that my family described as something out of an episode of CSI. There were a lot of motorcycles and semi trucks in the parking lot. You weren't allowed to smoke in the rooms so there were all these people that went with the motorcycles and semi trucks standing outside of their rooms smoking and you kind of had to get by them to get to your room. Yeah, it was a little unnerving. I'm pretty sure Motel 6 would pass on using this particular location for a national commercial to promote themselves. We were all quite sure that at some point in the night we were going to hear gunshots and then be surrounded by police. God must have been feeling a little bad for me at this point though because we actually made it through the night without any incidents.
The next morning we hurriedly packed up and headed home. Since we were in Wisconsin we thought it only proper to get some cheese so we stopped at a place along the highway that sold cheese and fireworks and other interesting things. Chicago, of course, was a joy to get through again, although this time it wasn't because everyone was going 70 miles an hour it was because everyone was stopped. We were going along and then just suddenly stopped. We thought there must be an accident or something but we never saw anything. It was apparently just traffic. And this was a Sunday! I can't imagine what it's like during rush hour. What should have taken us 15 minutes or so ended up taking us over an hour.
The rest of the trip pretty much went off without a hitch. There were, of course, more romantic comedies and even one apocalyptic type bad weather movie that was a little hard to follow without actually watching it. All in all it was a great trip, although not something I need to do again right away (I'm getting older, remember). Meagan, however, mentioned the other day that there was going to be a Little House on the Prairie reunion in Walnut Grove in the summer of 2014 that she would love to go to. Um, is that a cucumber growing out of your head?
Joel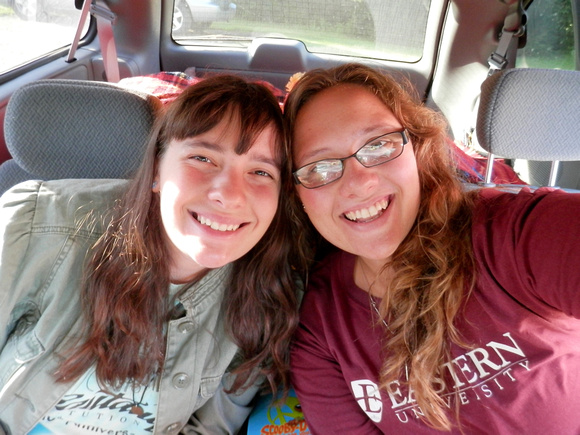 Fazoli's!!!
Grrrrrr
Aaaaaaaah!!
Help me not to have to pay so many tolls!!
Where Leroy works.
At the capitol.
First gun fired at Pearl Harbor Dec. 7, 1941
Those ants at the bottom are us.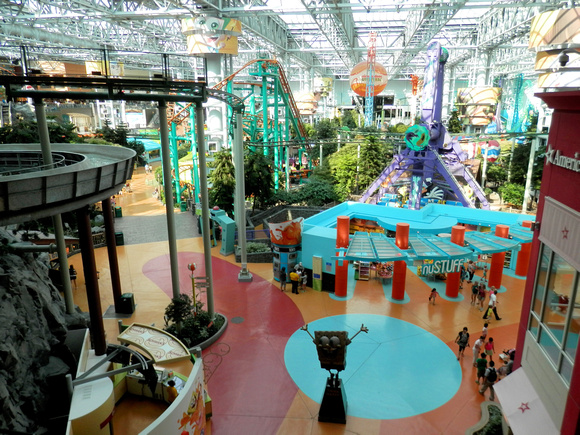 The amusement park in the mall.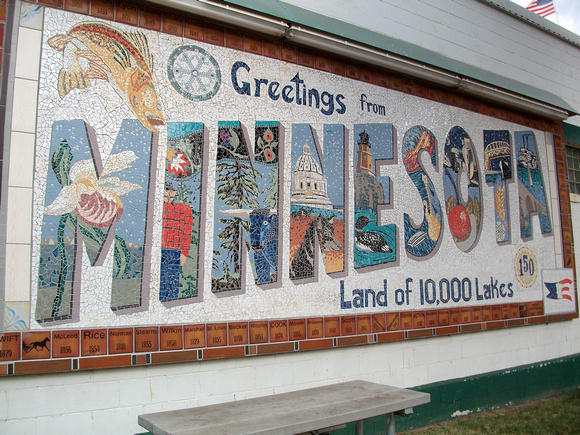 Funny, for some reason my wife barely gave me time to get a photo.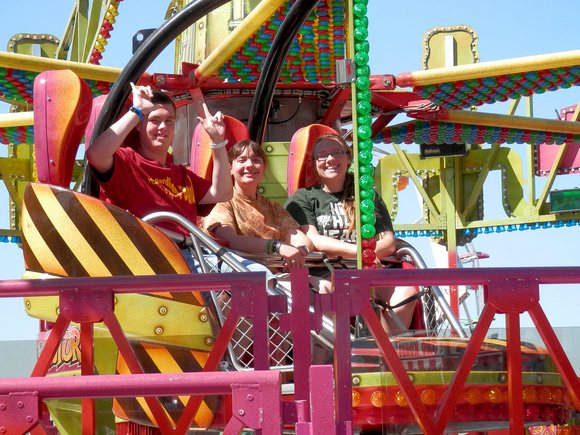 Just some nice lady who let me take a photo of her gnawing on a turkey leg.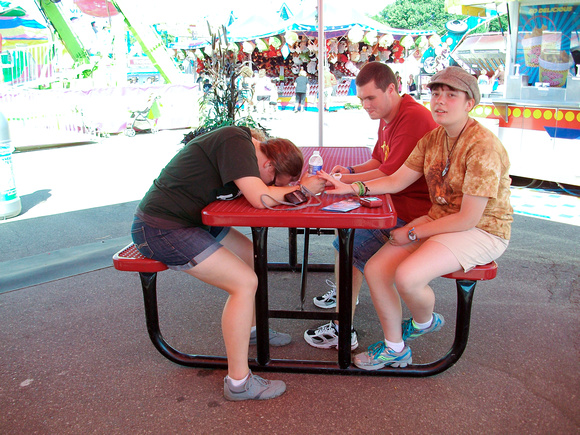 Whoops, one ride too many.
Leroy with a bucket of chocolate chip cookies.
Mmmm, cookies.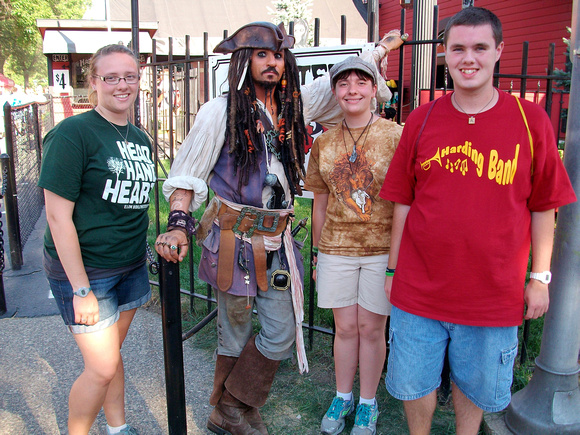 Meagan, Emily and Andy just happened to bump into Captain Jack Sparrow.
Me and the root beer float. Oh yeah.
See, I told ya.
And this is why you shouldn't put pizza on a stick.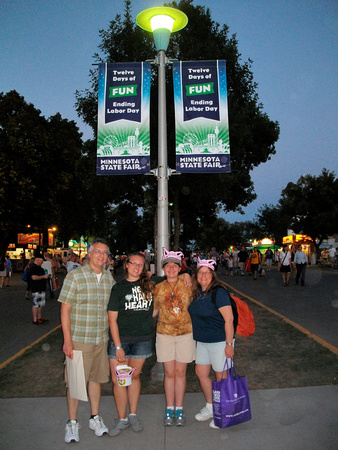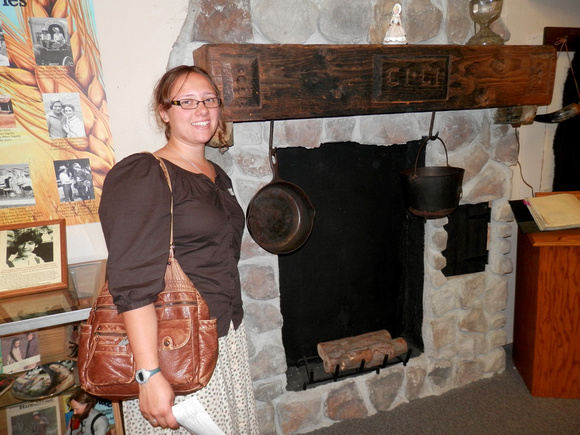 The mantel is actually the one from the TV set.
Hey, it's ma and pa Ingalls!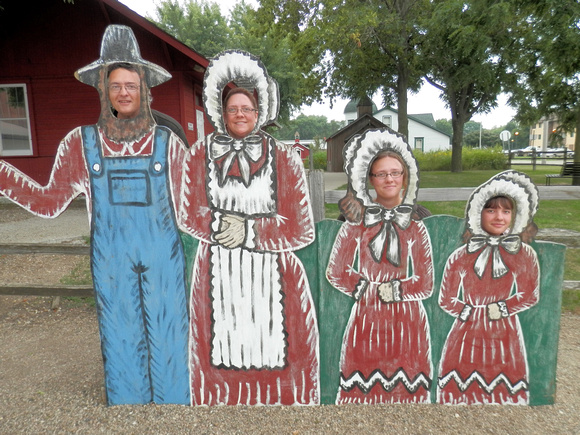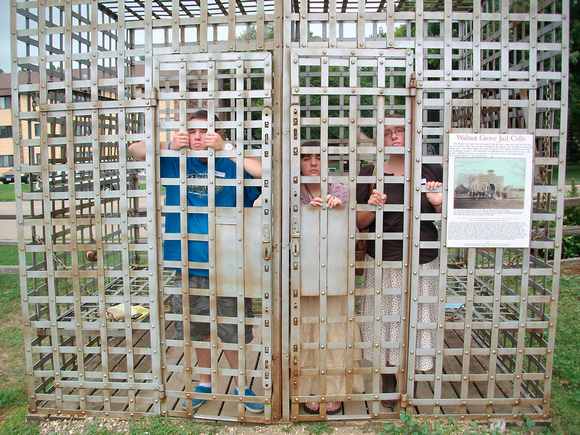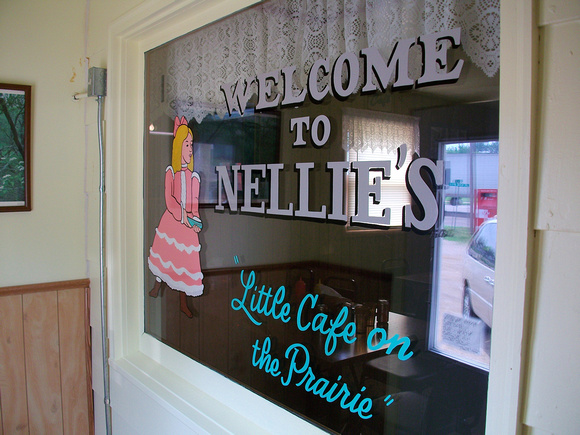 The Gordon's
Forget about being on the banks, Meagan is in Plum Creek.
Nothing but corn and soybeans.
The moment I nearly had a heart attack.
Believe it or not there's actually a hutch in there.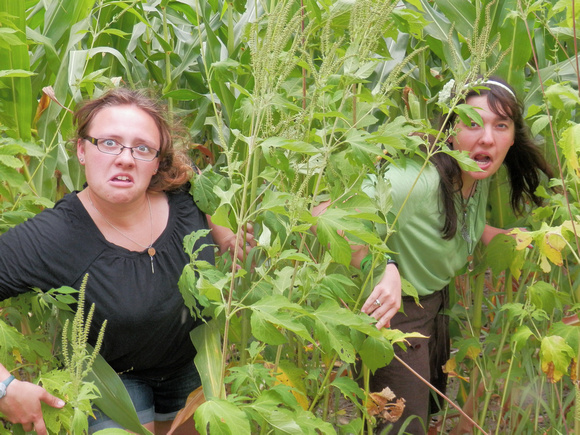 Ah yes, my darling children of the corn.
Cue the scary music.
Fancy cheese heads.
The infamous hutch.